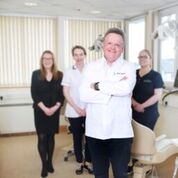 Dr. Gordon is deeply aware that to perform world-class orthodontics he needs the highest quality team.
Anyone dealing with Aine, our Office Manager, Norita, our Orthodontic Therapist, and Cora, our Practice Manager, will quickly realise how calm, friendly and professional they all are.
They are all very highly qualified and focussed on giving each and every patient a unique caring experience.  Even when Dr. Gordon is away from the practice either attending or giving a lecture he can relax in the knowledge that the practice is still being cared for and running efficiently.